B

anquet Information

Meeting & Wedding

Home > Banquet Information > Banquet Information
Banquet Information

라마다플라자 광주호텔의 연회장은 최고의 퀄리티를 자랑합니다.

Experience the luxury presented to you by Ramada Plaza Gwangju's banquet services.

현대적 감각의 인테리어와 품격높은 서비스

비즈니스 미팅, 대규모 세미나뿐만 아니라 소중한 기억으로 남을 가족, 친지 모임 등 다양한 형태의 행사를 고급스럽고 세련되게 연출할 수 있습니다. 또한 풍부한 경험을 가진 연회 담당직원의 수준 높은 서비스와 전문 플로리스트에 의해 세팅 되어지는 행사장은 지금껏 경험하지 못한 우아하고, 세련된 분위기를 선사 할 것입니다.

Grand Ballroom suitable for large scale seminars and events

The grand ballroom designed to suit to large scale convention or academic events will satisfy diverse requirements of customers favored by its facilities systemized to enable customized service. We promise that we will lead the events the customers want to carry out for successful business.

Small and Medium Event Halls where different forms of banquet events can be progressed simultaneously

More convenient and practical events can be carried out using Small and Medium Event Halls designed to hold different forms of events such as seminar and banquet simultaneously by dividing a single hall into two halls.

Provision of Cutting-edge Banquet Support Equipment

Ramada Plaza gwangju Hotel provides modern facilities and cutting-edge banquet support equipment.

- Large electric motion screen moving up and down installed in the large, medium hall and small banquet hall respectively and drop curtain holding facilities moving up and down, and variable stage moving up and down are possessed.
- Retractable high resolution beam projector (6500 ANSI) is mounted on the ceiling.
- Established facilities relaying moving pictures (camera relaying facilities) between all event halls.
- A variety of special stage direction is possible for events such as fashion show and new product launching show as well as family party favored by the illumination and sound equipment of broadcasting station level.
- Support ultra-high speed wired and wireless internet
- Site technology support service through a separate sound controlling room
- Support a set of various seminar equipment such as PC and computer peripherals, laser pointer, etc.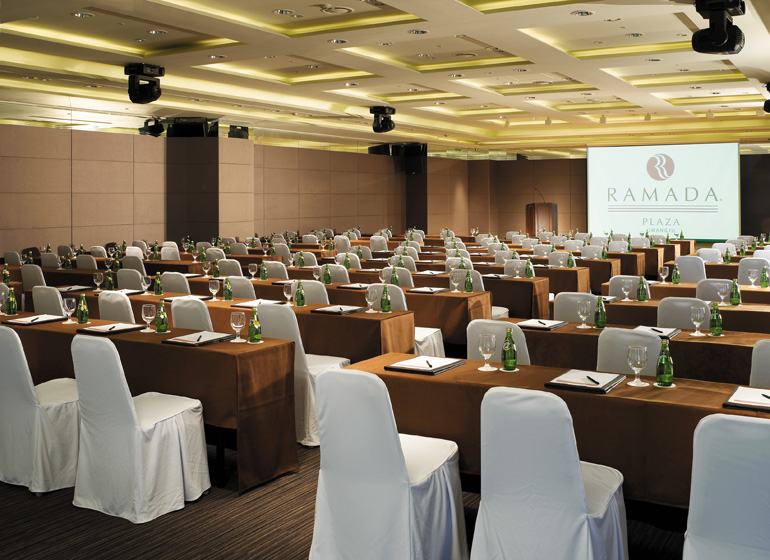 그랜드 볼룸
현대적 모던한 디자인으로 설계, 최첨단 조명 음향 시스템을 설비, 대규모
학회나 컨벤션 행사를 성공적으로 치를 수 있는 최적의 공간입니다.
면 적

252㎡ (21M X 12M)
높 이

2.9M
도면보기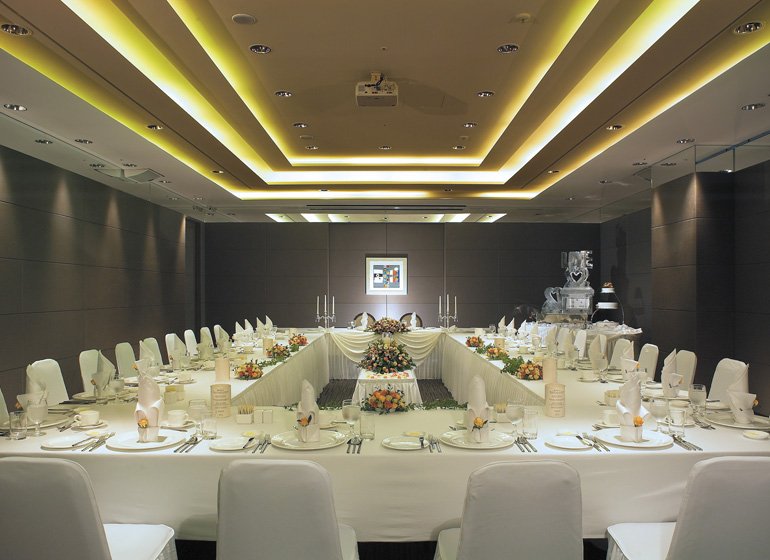 중/소 연회장
다양한 규모와 형태의 연회행사가 가능하며, 두 개의 홀로 분리, 세미나와 만찬 등 다른 형태의 연회행사를 동시에 진행 할 수 있어 실용적이고 편안한 서비스를 제공할 것입니다.
중연회장
면 적

80㎡ (10M X 8M)
높 이

2.9M
소연회장
면 적

66㎡ (6M X 11M)
높 이

2.9M
도면보기